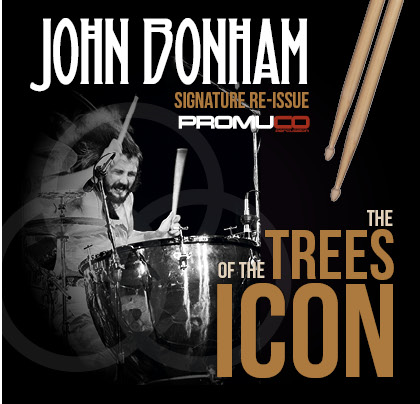 Re-issue John Bonham drumsticks!
Back in 1964, the British Professional Music Company (Promuco) started making drumsticks in Yorkshire, England. After a couple of years of local success, a certain Buddy Rich caught on to the sticks and helped introduce them to the American market. Subsequently, Promuco sticks came to the attention of a growing number of influential drummers, and it was during the early 70s that Zeppelin's powerhouse, John Bonham had his own sticks commissioned by the British manufacturer. From that point on, Bonzo's 'Trees' – as he called them – banged the drumheads of hundred of kits, creating an era-defining, iconic sound that is still revered by drummers around the globe.
Made to the standards as the 70s version, Promuco's re-issued signature JB sticks conform to the same weight and dimension profile as the much sought-after originals and feature the legendary 'acorn-shaped' wood tip.
Crafted from premium Hickory, including his original signature.