OPTIMIZE YOUR CYMBAL SOUND
De unieke CYMPAD bekken viltjes zijn gemaakt van cellulair schuim – een schuimtype dat fantastische eigenschappen heeft bij het toepassen voor cymbals!
De drie Cympad modellen geven elke drummer de mogelijkheid om zijn of haar eigen sound te benadrukken.
MODERATOR
De ultieme pad om bekkensound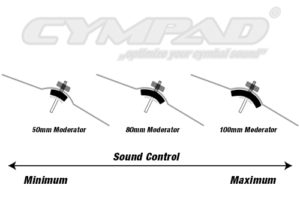 te reguleren, controleren. Minder volume, tot zelfs 25% en minder overtonen. Ideaal voor repetities, kleinere ruimtes, droger cymbalsound etc. De Moderator is er in 6 verschillende formaten die elk een andere controlerend effect geven.
OPTIMIZER
De Optimizer is een ware uitkomst voor de drummer die de max uit zijn of haar bekkens wil halen. De Optimizer geeft bekkens de ultieme ondergrond om te resoneren en isoleert eventuele bijgeluiden vanuit de cymbalstand. Optimizer is er in verschillende diktes en ook speciaal voor hihat en ride!
CHROMATICS
Customize jouw drumset en maak er een kleurrijk geheel van met deze gekleurde Cympads! De high density memory foam superieure kwaliteit geeft je de beste sound. Dit in combinatie met de beste looks is the ultimate you can get!