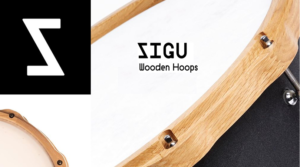 SIGU wooden hoops sound crisp and harmonious. They reduce unwanted metallic overtones, as often occurs with standard metal hoops. This without making the snare drum sound too compressed, which is often the case with cast hoops.
The woodhoops are handmade in Latvia of solid wood joints and sund more balanced compared to plywood.
The hoops are treated with selected environmentally friendly water-based lacquer and available in; Maple, Birch, Ash and Oak! Both for 14/10 and 14/8 top and bottom.
Last but not least, the SIGU wooden hoops impress with their high-end look and elegant design and noticeably reduce the wear on drumsticks!