Ukulele BASS, less space with more low end!
Een meer dan volwaardige bas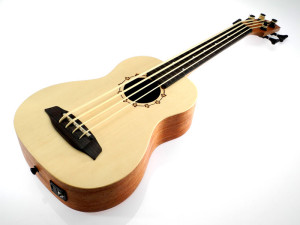 sound uit een slechts 21″ scale basgitaar? Met de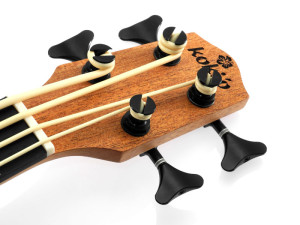 ukulele bas van koki'o kan het!
Deze uke bassen zijn gewoon in EADG gestemd en zijn voorzien van speciale polyurethane snaren. De uke bass is bijzonder licht in gewicht en qua formaat kan eea zelfs mee als handbagage in het vliegtuig! Er is keuze uit 4 modellen in gefret of fretloos en in mahonie en spruce / mahonie.
Ukulele bassen zijn bijzonder populair door het unieke geluid dat een ietwat contrabas achtig geluid geeft. Uke bassen worden momenteel gebruik, zowel on stage en in studio, door oa; Tal Wilkenfeld (Jeff Beck), Reggie McBride (Keb Mo / Stevie Wonder), Esperanza Spalding, Abraham Laboriel Sr., Bakithi Kumalo (Paul Simon / Herbie Hancock), Hutch Hutchinson (oa Bonnie Raitt/Al Green/BB King), Phillip Bynoe (Steve Vai), Hugh McDonald (Bon Jovi), Ira Coleman (Sting / Branford Marsalis), Vincente Archer (Amos Lee / Wynton Marsalis).