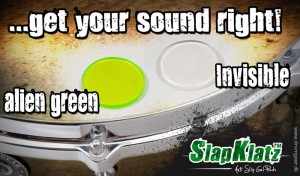 SlapKlatz is het perfecte product voor demping van drums, bekkens en percussie. Ze plakken geweldig en hebben het juiste gewicht. Het resultaat is een demping die niet alleen kan worden toegepast op je slagvel, maar ook tegen je ondervel of zelf aan de onderkant van je ride cymbal!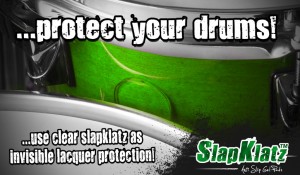 SlapKlatz werkt ook prima als bescherming van je lak. Plaats SlapKlatz op de ketel waar de hardware of snaredrum te dichtbij komt en je hebt nooit meer krassen en lelijke beschadigingen.
SlapKlatz is verkrijgbaar in twee kleuren: Alien Green en het onzichtbare Clear. Zo kun je je drums een cool uiterlijk geven, of ervoor kiezen om je demping juist helemaal onzichtbaar te laten zijn. Een set SlapKlatz bestaat uit 4 pads, 2 van 30mm diameter en 2 van 40mm. Het nieuwe PRO pack gaat nog een stap verder met in totaal 10 gels in 3 maten. Dit geeft je nog meer mogelijkheden om je geluid te optimaliseren!
SlapKlatz – super sticky – super handig!
Optimaliseert je drumsound
Geeft je in een handomdraai een nieuw cymbalsound
Beschermt de lak van je drums op risicovolle plekken
Zeer sterke kleefkracht
Door ronde vorm geen opkrullende hoeken
Nu ook beschikbaar in een PRO pack met 10 gels in 3 maten!
Klik hier voor SlapKlatz review in de Slagwerkkrant